Jinjun Park, Founder
A picture says a thousand words- this time-tested maxim illustrates how effective the use of visual explanations can be for conveying complex ideas in manufacturing industry. Machine vision is one such technology in the manufacturing industry that helps machines get a clear picture of different components. Machine vision consists of various components such as camera, lens, and image processor. After capturing the best image of the machine component, the software processes and analyzes the image according to the purpose of the task, and provides judgment to perform a specific task. For the image processor to make ethical judgments, the video image acquired by the camera must be right. To get the best image, the lens must perform very well and have the best combination of lens and lighting.
One company making great strides in manufacturing high-quality products for optical inspection systems and metrology used in the machine vision industry is L-Fusion Optics. The company offers a wide range of optical lens such as Telecentric lens, Conventional lens, Line Scan lens, Zoom lens, and LED lighting. In addition to the variety of lenses, it also manufactures optical modules used for contactless three dimensional (3D) measurements.
Hailing from South Korea, L-Fusion Optics, with a ton of experience offers a total one-stop shop solution for manufacturing inspection lenses and optical inspection systems required by the machine vision.
Based on the technology and know-how accumulated based on optics, the company began it journey in the year 2013. The company spent a good deal of time researching, to manufacture optical systems for precision measurement and inspection by the high-tech industry and machine vision markets. L-Fusion Optic's Founder Jinjun Park says, "The name of our company L-Fusion refers to Light + Fusion, which combines optical technology with other technologies to create innovative new technologies."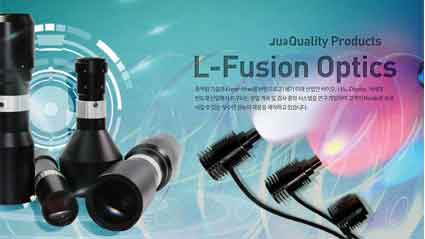 L-Fusion Optics aims to achieve innovation by building a robust partnership with other industries. The company using optical lenses enhances a machine's vision by using a wide range of technology such as lens design technology, illumination optics design technology, optical component design technology, optical system, and module design technology. Furthermore, to evaluate the quality of the system, an optimal combination of lenses and lighting is performed. "We offer the best solution to overcome the limits of what we examine by combining lighting and lens, and the limits of what we measure," adds Park.
L-Fusion Optics has proven its mettle over the years as it has developed and manufactured technologies that are considered economical. L-Fusion has been overwhelmed with requests for development from manufacturers of automated production equipment such as display and semiconductor. The semiconductor or display automation process is used to reduce the defect rate by detecting defects in a short period to reduce the overall time for production. To overcome that time, L-Fusion Optics has manufactured products with superior optical system performance, which detects the defect size by a small magnification lens instead of a high magnification lens. This reduces the time period while inspecting samples with the same camera, allowing a larger area to be an inspection at one time. "In the present time, we are competing with the world's leading companies, and intends to become a leader in providing solutions and products for optical systems needed in the machine vision industry," concludes Park.